---
Lotter Press
GGWeb Books & Publications
Graphic Gold Webmasters
---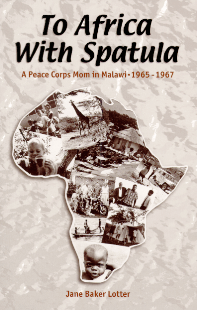 To Africa With Spatula
A Peace Corps Mom in Malawi
1965-1967
by Jane Baker Lotter
---
Lotter Press, Davis, CA
2002
304 pages (includes 8-page photo insert)
5-1/2" x 8-1/2" (140mm x 216mm)
paperback
$15.95 U.S. plus shipping & handling
ISBN: 0-9715173-0-4
---
Take one ordinary 1960s American family – husband, wife, and four active boys from three to twelve. Add a Peace Corps staff assignment to Malawi, Africa and more than ninety letters home. Stir well, edit liberally, and you get To Africa With Spatula. This is the story of our family's two-and-a-half years of adventures (and misadventures), and especially of our growing and enduring love for this tiny, beautiful African country and its people.
The book title, To Africa With Spatula, was inspired by our favorite family activity, Sunday morning pancake open houses which we held to give the Peace Corps Volunteers a little touch of home.
Africa and the whole Peace Corps experience got into our blood and forever changed the lives of our entire family.
– Jane Baker Lotter

Jane Baker Lotter grew up in Berkeley, California. After graduating from the University of California, she and her husband, Will, raised four sons in Davis, California where they have lived for most of 50 years. Together they are involved in human rights work in Central America. Jane's hobby is painting portraits of indigenous peoples. This is her first book.

---
"Jane Lotter, writing of her experiences in the late 1960s as the wife of a Peace Corps country director and mother of four young sons, has produced an important piece of history. The history of the Peace Corps is incomplete without the story of the families who participated as in-country staff. They, too, are Peace Corps heroes.

Jane's 1965-1967 letters home from Malawi are a compelling record of the critical role that staff and their families played in the success of the Peace Corps. The 162,000 Peace Corps Volunteers who have served over the 40-year history of the Peace Corps were able to do their work because families like the Lotters also served, sacrificed, supported and made possible the success of the Peace Corps."

– John Garamendi
Peace Corps Volunteer, Ethiopia 1966-1968
Former Deputy Secretary of the United States Department of the Interior

– Patricia Garamendi
Peace Corps Volunteer, Ethiopia 1966-1968
Former Associate Director, United States Peace Corps
---
To Order Follow These Simple Steps:
Print the Order Form. Fill out the Order Form as needed. Mail or Fax the completed Order Form. For further information: Fax: 530-756-2480
e-mail: bookinfo@lotterfamily.com

---

Lotter Press GGWeb Books & Publications Graphic Gold Webmasters


---

Copyright © 1995-2009 by Graphic Gold Webmasters. All rights reserved.

---

Web Site design and layout: Graphic Gold Webmasters